Environmental Working Group Studied the Climate and Environmental impacts from common protein and vegetables. The chart below looks at greenhouse gas emissions from these foods.
Figure 1. Full Lifecycle Greenhouse Gas Emissions from Common Proteins and Vegetables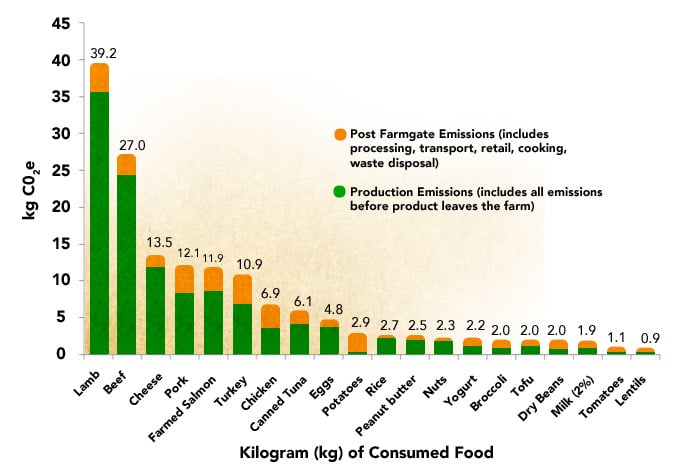 The Big Three – Interestingly but not surprising, Lamb, Beef & Cheese had the highest emissions due to the length of time and complex process these foods take to produce. So sadly even vegetarians with a love of cheese and dairy are not off the hook, however less dense cheese such as cottage or cream cheese results in fewer greenhouse gases since it takes less milk to produce it.
See more at: http://www.ewg.org/meateatersguide/a-meat-eaters-guide-to-climate-change-health-what-you-eat-matters/climate-and-environmental-impacts/#sthash.QOWH37GR.dpuf
Copyright © Environmental Working Group, www.ewg.org. Reproduced with permission.